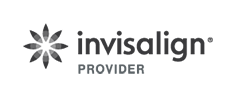 WHAT SETS INVISALIGN APART FROM OTHER OPTIONS?
The thing patients love most about Invisalign is that the aligners are removable. That means you don't have to change your diet or worry about brushing and flossing around brackets and wires.
Virtually invisible to others
Eat and drink whatever you want
No limits on activities
Comfortable
You just remove the aligners to eat, drink, brush, and floss. The aligners are also made of smooth plastic that won't irritate the inside of your mouth. With Invisalign®, each aligner is custom designed to fit precisely over the teeth as it puts gentle pressure on the teeth to move them into place. There are no wires and brackets that may cause bleeding and discomfort. Since the aligners are clear, it makes them much less noticeable in your mouth – in fact, most people won't even notice you are wearing them.
CAN EVERYONE USE INVISALIGN TREATMENT?
While Invisalign has made great strides in its technology, the treatment is still the most effective on patients who have more minor to moderate malocclusions. There are certain cases that can only effectively be treated with more traditional braces. Dr. Engel will advise whether you may be a good candidate for Invisalign.
HOW LONG WILL TREATMENT LAST?
This answer to this question is individual to each patient. There are many factors that go along with treatment time, such as severity of the malocclusion, patient compliance, and how each individual patient's mouth responds to treatment. However, the average Invisalign patient is in treatment between 12 and 18 months but can extend to 24 months depending on complexity.
HOW MUCH DOES INVISALIGN TREATMENT COST?
Many factors determine the cost of your Invisalign treatment: the extent of the issues you want corrected, how long your treatment plan will last, and the specific treatment details prescribed by the doctor. Engel Orthodontics works hard to ensure treatment is always budget friendly and will work with you to find a payment plan that can comfortably fit into your budget.
WILL MY INSURANCE COVER INVISALIGN TREATMENT?
If your dental plan covers orthodontic treatment, you may also qualify for Invisalign treatment. Talk to your insurance provider to determine the extent of coverage for your treatment.
CAN I WEAR MY TRAYS AT NIGHT ONLY?
When you wear Invisalign trays only at night, the trays only hold your teeth in place for one-third of the day. For the rest of the day, they move back into their former positions. You won't see the results you want. Plus, if you move on to the next series of trays, your teeth will not have adequately shifted for them, and you may experience extra pain. Always follow your dentist's recommendations for wearing Invisalign.
CAN I EAT OR DRINK WITH MY ALIGNERS STILL IN?
Patients can eat while wearing their aligners, however, we don't recommend it. The aligners can discolor. Chewing can damage the plastic of the aligners, which can then alter the fit. Drinking, especially hot or colored beverages can also damage your aligners. Always remove your aligners before eating or drinking anything other than plain water.
HOW DO I CLEAN MY ALIGNER?
Aligners can be cleaned like retainers by using a brush with water or mild soap (NOT TOOTHPASTE). Invisalign can also provide cleaning beads similar to a denture cleaner that can be dissolved in water to refresh your trays.