Finally, your braces have been removed and your smile is beautiful, straight, and best of all, metal-free!
To keep your smile looking its best, you'll have to wear a retainer to preserve and stabilize your results. They are used after braces treatment to hold teeth in their correct alignment while the surrounding gums, bones, and muscles adjust to the new positioning of your teeth.
Retainer Wear
Wear your retainer according to Dr. Engel's instructions, and always bring your retainer to your appointments!
Usually, 24/7 for the first 4-6 months, then nighttime indefinitely.
Initially, you may find it difficult to speak. Practice speaking, reading, or singing out loud to get used to it faster. You can do it, we promise!
Retainer Care
Take your retainer out when eating, and ALWAYS put it back in its case!

Most appliances are lost in school lunchrooms or restaurants.
Pets also love them.

Remove your retainer when you go swimming. Avoid that scuba diving trip in the lake!
Keep retainers away from hot water, hot dashboards, pockets, alcohol-based cleaners, the washing machine, and napkins.
Retainer Cleaning
Clean the retainer thoroughly once a day with a toothbrush and mild soap (NOT TOOTHPASTE). Brushing retainers removes the plaque and eliminates odors.
Efferdent® or other orthodontic appliance cleaners can be used but do not take the place of brushing. Never place it in hot water.
Retainer Emergencies
If you have any questions or concerns about your retainer, or you believe it needs adjusting, call us. Do not try to adjust it yourself.
Any time spent waiting to repair/replace the retainer is more time for your teeth to move again. Once teeth have shifted, the only way to fix it is by going back into active treatment (meaning more braces or aligners).
How long do I have to wear retainers after treatment?
Night time for life! Our bodies are incredible in their ability to adapt to the world around them, but that also means shifting of the teeth throughout life is possible.
If you take care of your final retainers, they will take care of your teeth.
Retainer replacements are expensive, but with proper care they will last for years!
Fixed Retainers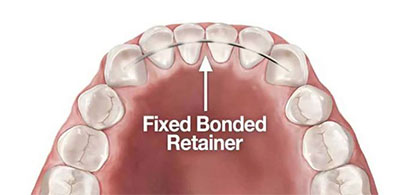 A fixed retainer is a wire that is glued onto the "lingual" or tongue side of your front teeth and is also known as a "bonded retainer". You cannot see it when you talk or smile.
Flossing is more difficult with fixed retainers due to the wire glued onto your teeth, and requires special flossing tools such as floss threaders or a WaterPik.
Regular cleanings with the dentist will prevent too much tartar from developing in the area; ALWAYS ask the hygienist to use a Cavitron machine to clean your fixed retainer.
Fixed retainers can break or come loose from using your front teeth to bite into hard foods like chips, hard candies, or even healthier foods that are crunchy like almonds or carrots. If this happens, you should call your orthodontist right away to prevent your teeth from moving. There may be a cost.