Surgical orthodontics is indicated when the teeth and bite cannot be aligned with just braces alone and/or an esthetic concern. This is usually due to a discrepancy in jaw sizes that occurs during growth.
Drs. Engel and Alexa are highly trained in treating complex orthognathic surgery patients. We not only have the experience to get the results you want and need, but we take the time to help our surgical patients through every step of the process.
IS ORTHOGNATHIC SURGERY RIGHT FOR YOU?
Depending on the severity of your case and the alignment of your jaw, you may or may not need surgery. Typically, jaw growth stops by age 16 in females and 18 in males. In order to receive orthognathic surgery, the jaw must be done growing completely. Our doctors are very conservative with their treatment and diagnosis and only recommend orthognathic surgery when it is absolutely indicated.
SOME SIGNS THAT SURGICAL INTERVENTION MAY BE NECESSARY INCLUDE:
Difficulty chewing, biting, or swallowing food
Open bite (when there's a space between the upper and lower teeth when the mouth is closed)
Facial asymmetry
Retruded (too far back) lower jaw and chin
Protruded (too far forward) lower jaw
Injury to the jaw or face
Sleep apnea
Chronic jaw or jaw joint (TMJ) pain and headaches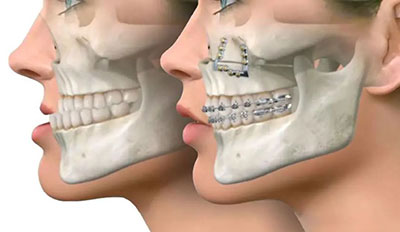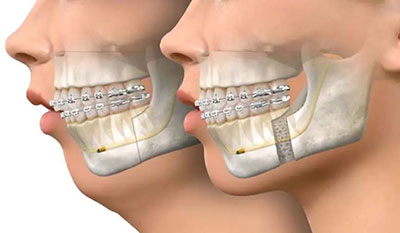 ORTHOGNATHIC SURGERY AT ENGEL ORTHODONTICS
The process starts with an initial consultation at one of our offices. If you are a candidate for surgical intervention, the next step is a consultation with an oral surgeon for you to receive more information about the surgical process before proceeding. Once you have decided to do surgery, braces will be placed by one of our orthodontists in order to prepare your teeth and bite for surgery.

When you're ready for surgery, your oral and maxillofacial surgeon will perform your orthognathic surgery, and the surgery will take place in a hospital. Once the surgery is complete, you will have about a two-week rest period. Since orthognathic surgery is a major treatment, we recommend that you schedule some time away from work and school during the healing process. After your jaw has healed, your orthodontist will once again "fine-tune" your bite for the next six to 12 months and then take your braces off.
As with any medical surgery, there may be certain risks of having orthognathic surgery. We work alongside a team of skilled oral surgeons who are experts at orthognathic surgery and will help answer all questions you have throughout the process. Since surgery is only indicated in patients with severe jaw discrepancies, the reward of surgery outweighs the risks involved. Orthognathic surgery can help achieve a beautiful healthy smile that lasts a lifetime.